Official Sony PlayStation 4 PS4 Dualshock 4 Wireless Controller Magma Red NEW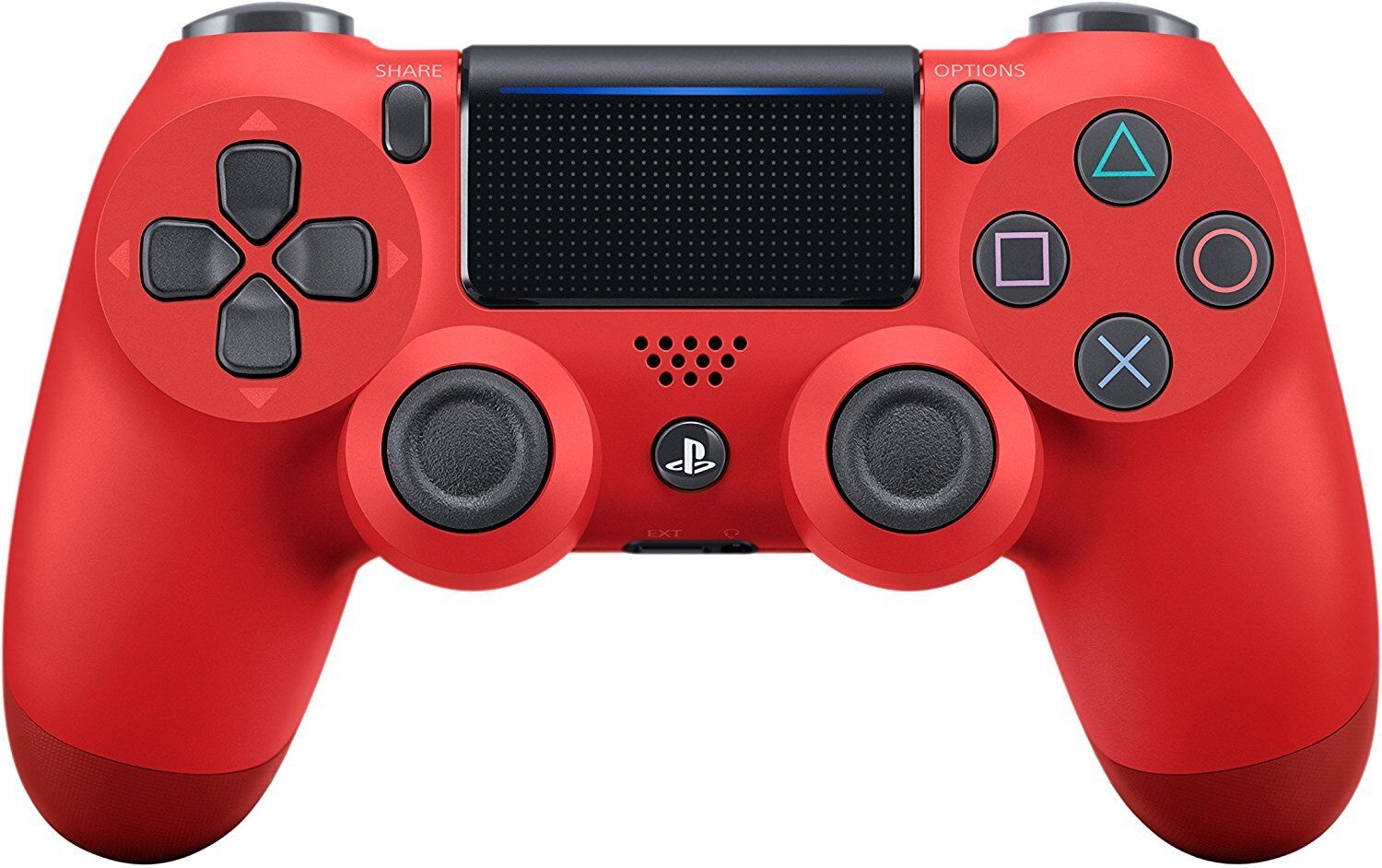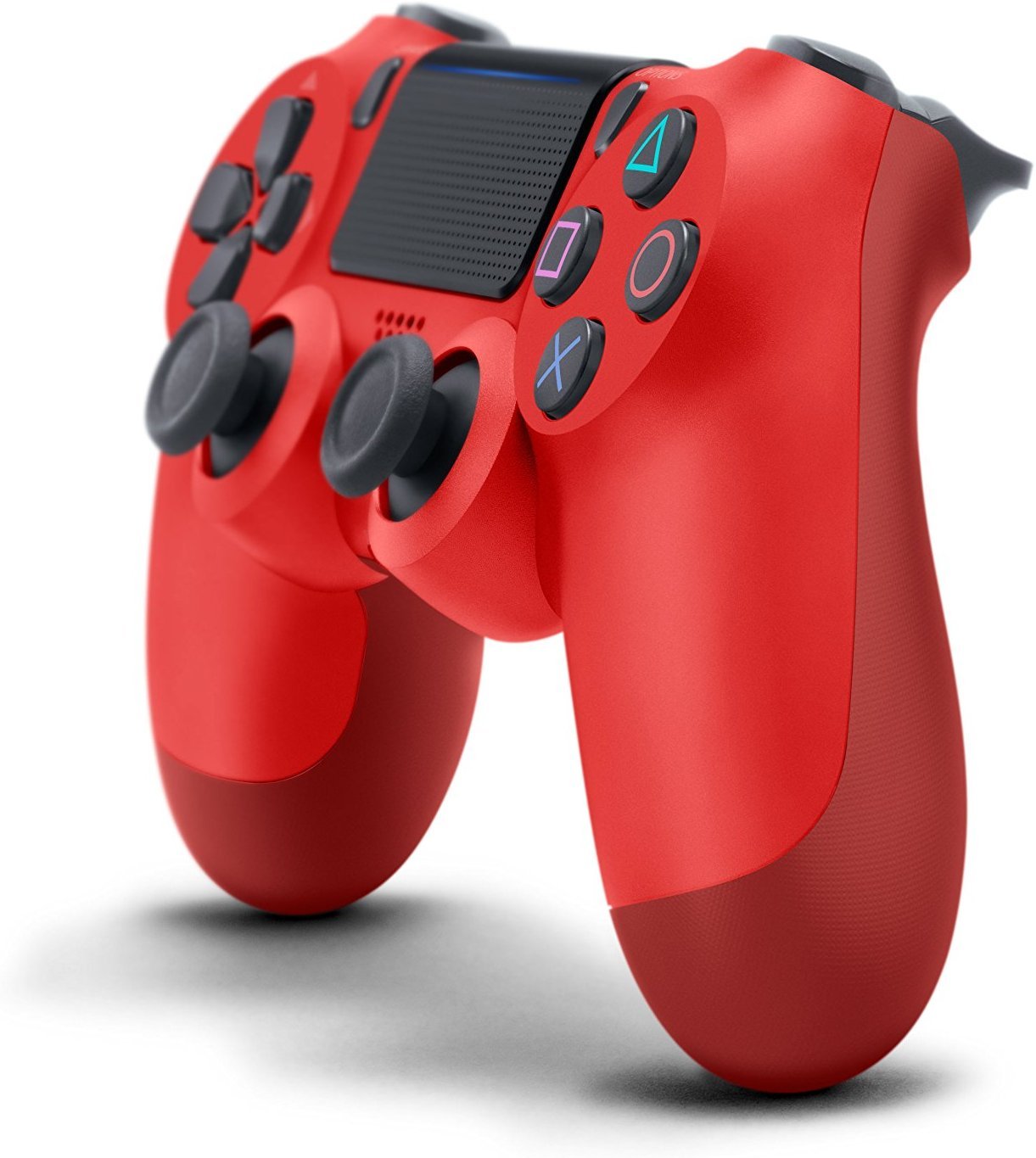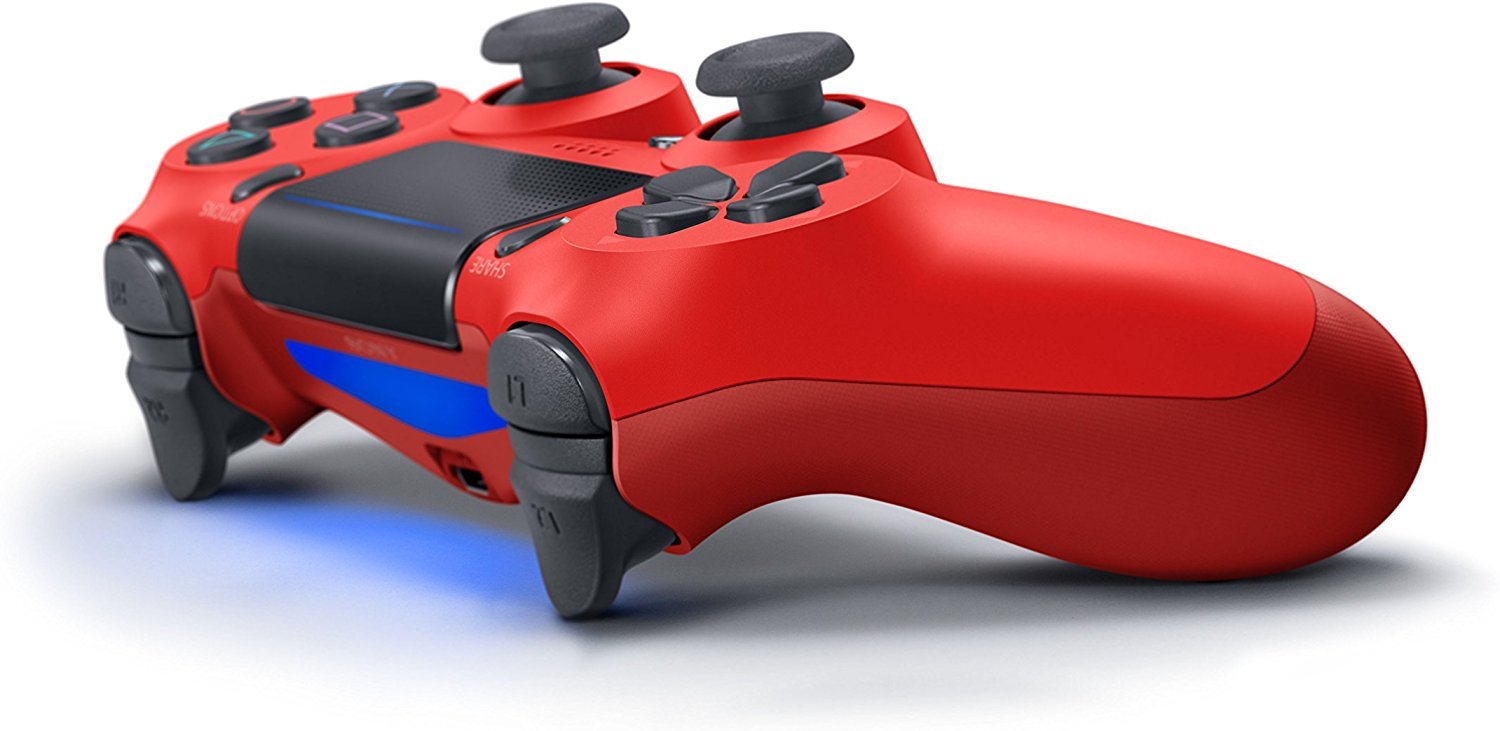 Item specifics
Condition:

New:

A brand-new, unused, unopened, undamaged item in its original packaging (where packaging is

Brand:

Sony

UPC:

0711719039594, 0711719511861

MPN:

3000084

Release Date:

November 2013

Platform:

Sony PlayStation 4

Connectivity:

Wireless

Color:

Red

Type:

Gamepad

Exterior Color:

Red

Product Description:

In the center of the PS4 controller are two new features: a light bar and a touchpad. The light bar is designed to further immerse yourself into your games. The buttons on the DualShock 4 feature a similar layout as past controllers. The action buttons feature more responsive springs that will enable you to tap them quicker. The directional pad is made of a sturdier material that also feels more responsive. The shoulder inputs feature a rounded shape, making them easier to grip with your index fingers. One major change is that the Start and Select keys are gone, replaced with the Share and Options keys. The Options button performs the actions that the Start and Select inputs did on previous gamepads. The Share button allows you to share gameplay clips and screenshots to social media. Lastly, the analog sticks on this gamepad feature a ridged surface that makes them easier to control. You can dim the light bar or even turn it off completely in the PS4's Options menu. The touchpad lets you quickly move the cursor around your screen like a mouse. This PlayStation 4 gamepad is a wireless controller and has a battery charge of up to 10 hours. You can charge this PS4 controller via the included micro USB cable. The gamepad can charge even when the system is on standby. The wireless gamepad has a range of up to 10 feet. The color of this Sony gamepad is magma. One DualShock 4 feature that Sony retained from previous accessories is the ergonomic shape. This PS4 controller fits easily in hand and can keep your hands comfortable while you play your favorite games. Like previous PlayStation controllers and accessories, the DualShock 4 features a built-in rumble pack. This pack makes your PS4 controller vibrate to match the onscreen action of your video game, it is dark red while each button and the analog sticks are black. The DualShock 4 is compatible with all PlayStation 4 games and is a handy device for your console.
Official Sony PlayStation 4 PS4 Dualshock 4 Wireless Controller Magma Red NEW
Product Details
Product Description

In the center of the PS4 controller are two new features: a light bar and a touchpad. The light bar is designed to further immerse yourself into your games. The buttons on the DualShock 4 feature a similar layout as past controllers. The action buttons feature more responsive springs that will enable you to tap them quicker. The directional pad is made of a sturdier material that also feels more responsive. The shoulder inputs feature a rounded shape, making them easier to grip with your index fingers. One major change is that the Start and Select keys are gone, replaced with the Share and Options keys. The Options button performs the actions that the Start and Select inputs did on previous gamepads. The Share button allows you to share gameplay clips and screenshots to social media. Lastly, the analog sticks on this gamepad feature a ridged surface that makes them easier to control. You can dim the light bar or even turn it off completely in the PS4's Options menu. The touchpad lets you quickly move the cursor around your screen like a mouse. This PlayStation 4 gamepad is a wireless controller and has a battery charge of up to 10 hours. You can charge this PS4 controller via the included micro USB cable. The gamepad can charge even when the system is on standby. The wireless gamepad has a range of up to 10 feet. The color of this Sony gamepad is magma. One DualShock 4 feature that Sony retained from previous accessories is the ergonomic shape. This PS4 controller fits easily in hand and can keep your hands comfortable while you play your favorite games. Like previous PlayStation controllers and accessories, the DualShock 4 features a built-in rumble pack. This pack makes your PS4 controller vibrate to match the onscreen action of your video game, it is dark red while each button and the analog sticks are black. The DualShock 4 is compatible with all PlayStation 4 games and is a handy device for your console.




Product Identifiers

Brand
Sony
Model
DualShock 4
MPN
3000084
UPC
711719039594, 711719511861
Release Date
November 2013



Key Features

Type
Gamepad
Platform
Sony PlayStation 4



Technical Features

Connectivity
Wireless


Price : 47.94

Ends on : 1 week

View on eBay